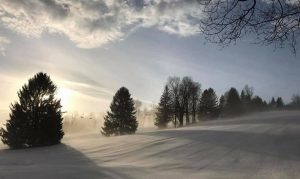 The Ohio Region has 10 member Alpine and Nordic ski patrols. They are located throughout Ohio and South Eastern Indiana. Our map is below. If you are interested in finding out more about an individual ski patrol, select one of the red crosses on the map and paste the link into your browser in order to view the patrol's web site.
Skiing and snowboarding can be enjoyed in many ways. At areas, you may see people using alpine skis, snowboards, telemark skis, cross country skis, and other specialized equipment, such as that used by the disabled. Regardless of how you decide to enjoy the slopes, always show courtesy to others and be aware that there are elements of risk in skiing that common sense and personal awareness can help reduce.
Observe the code listed below and share with other skiers and riders the responsibility for a great skiing experience.
Always stay in control, and be able to stop or avoid other people or objects.
People ahead of you have the right of way. It is your responsibility to avoid them.
You must not stop where you obstruct a trail, or are not visible from above.
Whenever starting downhill or merging into a trail, look uphill and yield to others.
Always use devices to help prevent runaway equipment.
Observe all posted signs and warnings. Keep off closed trails and out of closed areas.
Prior to using any lift, you must have the knowledge and ability to load, ride and unload safely.
Know the code. It's your responsibility.