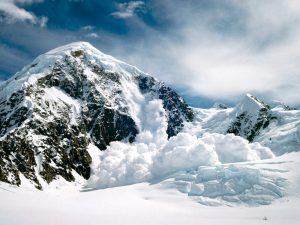 The NSP provides several layers of avalanche education. They are designed to fit the needs of different audiences with different backgrounds, interests, and geographical conditions.
Know before you go into avalanche country.  Follow this link to a great video and additional information on the 5 Essentials to stay alive in avalanche country.
The Ohio region offers two of the three NSP avalanche programs – Avalanche Awareness and Level 1 – Module 1 – Classroom.
One is Avalanche Awareness and is an introductory course to build interest in the overall program.  This type of course can last from 90 minutes to 4 hours, depending upon the curriculum for the course (i.e., just an intro to beacon training in the field).
Second, is Level 1 – Module 1 – Classroom and this course is the first of the three modules that complete the Level 1 program.  This first module course lasts from 12 to 13 hours, with pre-class homework, and is a Senior elective.  It also qualifies you to take Module 2 &/or 3 outside of the Ohio Region.  The total three module-based progam last 4 days and can be taught in different locations for the classroom, field and rescue sessions.
——————————————————————————–
Over the last few years in addition to teaching and being in support of the Level II courses in Colorado, Utah & New York, some of our instructors also attended the National Avalanche School (NAS) & International Snow Sciences Workshop (ISSW). The Ohio Region Staff  members are some of the best qualified in the NSP, so try to attend one of their classes and learn the skills they have to pass on.
——————————————————————————–
For more information or to request a course contact Region Avalanche Education Advisor:
Jay Zedak
——————————————————————————–
Additional Links:
American Avalanche Association/AAA
Colorado Avalanche Information Center/CAIC
Back Country Access – BCA's webiste
International Snow Science Workshop/ISSW
Mt. Washington Avalanche Center/MWAC