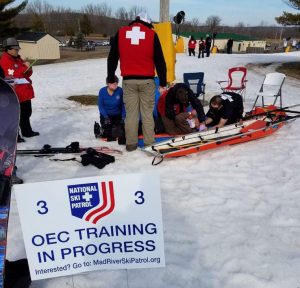 Outdoor Emergency Care (OEC) is the one thread that ties all members of the National Ski Patrol together. It is the one common training for patrollers of all types, Alpine, Nordic, Auxiliary, Paid, and Volunteer.
Outdoor Emergency Care is a sequenced, competency-based education program taught at the same level as the EMT-B course content. OEC prepares candidate patrollers and other outdoor rescuers without previous first aid or EMT training to handle the emergency care problems encountered in the non-urban setting. The knowledge and skills learned are oriented toward the wilderness environment, with special emphasis on ski and snowboard injuries, high-altitude and cold-weather illness, wilderness extrication, and the special equipment needed for emergency care and transportation in the outdoor environment. Students are required to participate in comprehensive lessons with skill and scenario application, complete various workbook exercises, take a final written exam, and demonstrate their skills and knowledge in final practical scenarios. Challenge students are required to demonstrate all skill performances and complete the same final written exam and practical scenario evaluation as the course students.
---
Prerequisite: None
Challenge prerequisite: Current certification or license in medicine, EMS, First Responder, or Wilderness First Responder at the discretion of the instructor of record.
Course time commitment:
No hour requirements. To master the objectives, a candidate typically needs to devote 80 to 120 hours of class time to the course.
Challenge time commitment: Total class hours vary with the candidate's emergency care background, specialty, and experience.
Credential: NSP Certificate of Achievement; OEC card (valid for three years).  Continuing education/refresher requirement: Annual OEC refresher consisting of one-third of the total curriculum (skill competency is verified by instructor of record)
Instructor of record: OEC instructor
---
For more information contact OEC Administrator Jim Bichl .
Important Information and Forms for the 2015-2016 Season:
Course Completion Roster Aug 2015.doc
Senior_Program .pdf
OEC Course QA Form .pdf
OEC_Instructor_Trainer_Manual .doc
Ohio Region OEC Org Chart 2015-2016.pdf
QA_Instructor_Observation_Summary_Form.pdf